The Accelerator Compact PoE+ Battery Pack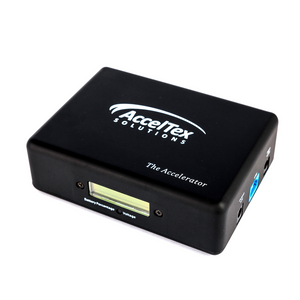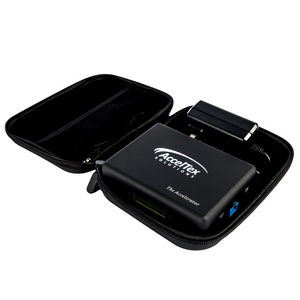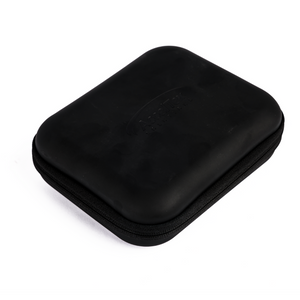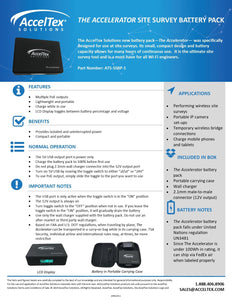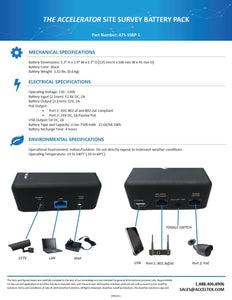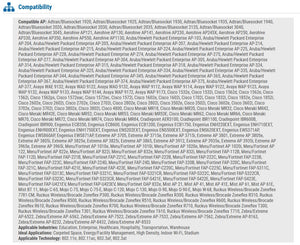 The Accelerator Compact PoE+ Battery Pack
Specifically designed for use at site surveys, it's small, compact design and battery capacity allows for many hours of continuous use. It is the ultimate site survey tool and a must have for all Wi-Fi engineers! 
**PLEASE ALLOW AN EXTRA 2 DAYS FOR SHIPPING**
 Great for performing wireless site surveys, portable IP camera set up's, temporary wireless bridge connections, and charging mobile phones and tablets. 
Multiple POE outputs
 Lightweight and portable 
 Charge while in use 
 LCD display toggles between battery percentage and voltage 
 Included in the box are the Accelerator battery pack, a portable carrying case, a wall charger, and a 2.1mm male-to-male connector for the 12 V output. 
Operating voltage: 110-220V
Battery input (2.1mm): 12.6V DC, 2A
Battery Output (2.1mm): 12V, 2A
PoE Output: Port 1: IEEE 802.3af & 802.3at compliant / Port 2: 24V DC, 1A Passive PoE
USB output: 5V DC, 2A
Battery Type & Capacity: Li-ion 7500 mAh 12.6V/94.5Wh
Battery recharge time: 4 hours
Dimensions 5.3" H x 3.9" W x 1.7" D (135mm x 100 mm x 43 mm)
 Operating temperature: 14-140F (-10 to 60 C)
 ----
Compatible AP: Adtran/Bluesocket 1920, Adtran/Bluesocket 1925, Adtran/Bluesocket 1930, Adtran/Bluesocket 1935, Adtran/Bluesocket 1940, Adtran/Bluesocket 2020, Adtran/Bluesocket 2030, Adtran/Bluesocket 2035, Adtran/Bluesocket 2135, Adtran/Bluesocket 3040, Adtran/Bluesocket 3045, Aerohive AP121, Aerohive AP130, Aerohive AP141, Aerohive AP230, Aerohive AP245X, Aerohive AP250, Aerohive AP330, Aerohive AP350, Aerohive AP550, Aerohive AP1130, Aruba/Hewlett Packard Enterprise AP-103, Aruba/Hewlett Packard Enterprise AP-204, Aruba/Hewlett Packard Enterprise AP-205, Aruba/Hewlett Packard Enterprise AP-207, Aruba/Hewlett Packard Enterprise AP-214, Aruba/Hewlett Packard Enterprise AP-215, Aruba/Hewlett Packard Enterprise AP-224, Aruba/Hewlett Packard Enterprise AP-225, Aruba/Hewlett Packard Enterprise AP-228, Aruba/Hewlett Packard Enterprise AP-274, Aruba/Hewlett Packard Enterprise AP-275, Aruba/Hewlett Packard Enterprise AP-277, Aruba/Hewlett Packard Enterprise AP-304, Aruba/Hewlett Packard Enterprise AP-305, Aruba/Hewlett Packard Enterprise AP-314, Aruba/Hewlett Packard Enterprise AP-315, Aruba/Hewlett Packard Enterprise AP-318, Aruba/Hewlett Packard Enterprise AP-324, Aruba/Hewlett Packard Enterprise AP-325, Aruba/Hewlett Packard Enterprise AP-334, Aruba/Hewlett Packard Enterprise AP-335, Aruba/Hewlett Packard Enterprise AP-344, Aruba/Hewlett Packard Enterprise AP-345, Aruba/Hewlett Packard Enterprise AP-365, Aruba/Hewlett Packard Enterprise AP-367, Aruba/Hewlett Packard Enterprise AP-374, Aruba/Hewlett Packard Enterprise AP-375, Aruba/Hewlett Packard Enterprise AP-377, Avaya WAE 9132, Avaya WAO 9122, Avaya WAO 9132, Avaya WAP 9112, Avaya WAP 9114, Avaya WAP 9122, Avaya WAP 9123, Avaya WAP 9132, Avaya WAP 9133, Avaya WAP 9144, Avaya WAP 9172, Avaya WAP 9173, Cisco 1532e, Cisco 1532i, Cisco 1562d, Cisco 1562e, Cisco 1562i, Cisco 1562ps, Cisco 1572eac, Cisco 1572ec, Cisco 1572i, Cisco 1602e, Cisco 1602i, Cisco 1702i, Cisco 1832i, Cisco 1852e, Cisco 1852i, Cisco 2602e, Cisco 2602i, Cisco 2702e, Cisco 2702i, Cisco 2802e, Cisco 2802i, Cisco 3502e, Cisco 3502i, Cisco 3602e, Cisco 3602i, Cisco 3702e, Cisco 3702i, Cisco 3802e, Cisco 3802i, Cisco 4800, Cisco Meraki MR18, Cisco Meraki MR20, Cisco Meraki MR32, Cisco Meraki MR42, Cisco Meraki MR42E, Cisco Meraki MR52, Cisco Meraki MR53, Cisco Meraki MR53E, Cisco Meraki MR62, Cisco Meraki MR66, Cisco Meraki MR70, Cisco Meraki MR72, Cisco Meraki MR74, Cisco Meraki MR84, Cradlepoint AER3100, Cradlepoint IBR1100, Cradlepoint IBR600B, Cradlepoint IBR900, Engenius ECB350, Engenius ECB600, Engenius ECB1200, Engenius ECB1750, Engenius ENH220EXT, Engenius ENH710EXT, Engenius ENH900EXT, Engenius ENH1750EXT, Engenius ENS202EXT, Engenius ENS500EXT, Engenius ENS620EXT, Engenius EWS371AP, Engenius EWS860AP, Engenius EWS871AP, Extreme AP 3705, Extreme AP 3715e, Extreme AP 3715i, Extreme AP 3801, Extreme AP 3805e, Extreme AP 3805i, Extreme AP 3825e, Extreme AP 3825i, Extreme AP 3865, Extreme AP 3912, Extreme AP 3935e, Extreme AP 3935i, Extreme AP 3965e, Extreme AP 3965i, Meru/Fortinet AP 1010e, Meru/Fortinet AP 1010i, Meru/Fortinet AP 1020e, Meru/Fortinet AP 1020i, Meru/Fortinet AP 122, Meru/Fortinet AP 822e, Meru/Fortinet AP 822i, Meru/Fortinet AP 832e, Meru/Fortinet AP 832i, Meru/Fortinet FAP-112B, Meru/Fortinet FAP-112D, Meru/Fortinet FAP-221B, Meru/Fortinet FAP-221C, Meru/Fortinet FAP-222B, Meru/Fortinet FAP-222C, Meru/Fortinet FAP-223B, Meru/Fortinet FAP-223C, Meru/Fortinet FAP-224D, Meru/Fortinet FAP-24D, Meru/Fortinet FAP-320B, Meru/Fortinet FAP-320C, Meru/Fortinet FAP-321C, Meru/Fortinet FAP-421E, Meru/Fortinet FAP-423E, Meru/Fortinet FAP-C220C, Meru/Fortinet FAP-C225C, Meru/Fortinet FAP-S311C, Meru/Fortinet FAP-S313C, Meru/Fortinet FAP-S321C, Meru/Fortinet FAP-S321CR, Meru/Fortinet FAP-S322C, Meru/Fortinet FAP-S322CR, Meru/Fortinet FAP-S323C, Meru/Fortinet FAP-S323CR, Meru/Fortinet FAP-S421E, Meru/Fortinet FAP-S422E, Meru/Fortinet FAP-S423E, Meru/Fortinet FAP-U421EV, Meru/Fortinet FAP-U423EV, Meru/Fortinet OAP 832e, Mist AP 21, Mist AP 41, Mist AP 41E, Mist AP 61, Mist AP 61E, Mist BT 11, Mojo C-65, Mojo C-75, Mojo C-75-E, Mojo C-120, Mojo C-130, Mojo O-90, Mojo O-90-E, Mojo W-68, Ruckus Wireless/Brocade Zoneflex 7781-CM, Ruckus Wireless/Brocade Zoneflex P300, Ruckus Wireless/Brocade Zoneflex R300, Ruckus Wireless/Brocade Zoneflex R310, Ruckus Wireless/Brocade Zoneflex R500, Ruckus Wireless/Brocade Zoneflex R510, Ruckus Wireless/Brocade Zoneflex R600, Ruckus Wireless/Brocade Zoneflex R610, Ruckus Wireless/Brocade Zoneflex R700, Ruckus Wireless/Brocade Zoneflex R710, Ruckus Wireless/Brocade Zoneflex T300, Ruckus Wireless/Brocade Zoneflex T301, Ruckus Wireless/Brocade Zoneflex T610, Ruckus Wireless/Brocade Zoneflex T710, Zebra/Extreme AP-6522, Zebra/Extreme AP‑6562, Zebra/Extreme AP-7522, Zebra/Extreme AP-7532, Zebra/Extreme AP-7562, Zebra/Extreme AP-8163, Zebra/Extreme AP-8232, Zebra/Extreme AP-8432, Zebra/Extreme AP-8533
Applicable Industries: Education, Enterprise, Healthcare, Hospitality, Transportation, Warehouse
Ideal Applications: Carpeted Space, Energy/Facility Management, High Density, Indoor Wi-Fi, Stadium
Applicable Technology: 802.11n, 802.11ac, 802.3af, 802.3at