Aruba AP Adapter for Cisco Mounting Brackets (VACAY)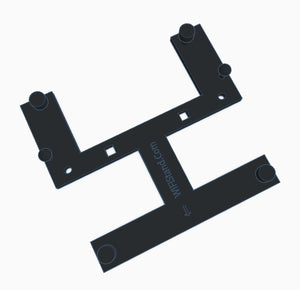 Aruba AP Adapter for Cisco Mounting Brackets (VACAY)
The Cisco AIR-AP-BRACKET-1 and AIR-AP-BRACKET-2 mounting brackets are two of the most used Access Point mounting brackets in the Wi-Fi industry. If you choose to install another AP in the same location, you'll have to swap brackets. Customers choosing to move to the Aruba 500 and 600 series wireless access point product lines will find that the mounting solution offered may not be as straightforward as the Cisco solution.

Wouldn't it be great if there was an adapter that allowed you to use your existing Cisco AP mounting brackets with your new Aruba Wireless APs? Wouldn't it be cool if you just buy one adapter without the need for an additional Aruba mounting kit?
Look no further! This adapter (code named the VACAY) from WiFiStand allows your already installed or on-hand Cisco AP brackets to take a much needed break on their journey to Aruba!
Developed by industry request and designed by WiFiStand to help leverage existing infrastructure, cut waste, save time and thousands of dollars (not to mention the labor and sometimes stacks of paperwork to pop a ceiling tile!), the Various Aruba to Cisco AP Accessory, shortened to VACAY, is your tool to ease vendor transition. No other components are needed!!
Our adapter takes into account placement of ports on the Aruba AP while providing a clean and simple aesthetic to AP installs with existing Cisco AP brackets for Wi-Fi equipment. Built from sturdy galvanized materials and with the same quality you'd expect from WiFiStand, this product is sure to fit your needs for the future of your Wi-Fi deployment.
The adapter attaches to the back of the Aruba Wireless 500 and 600 series APs using the existing screw locations - no need for anything else! Simply remove the factory included rail and reuse the same screws! Once secured, the VACAY adapter slides into the Cisco AIR-AP-BRACKET-1 or AIR-AP-BRACKET-2 and clicks into place without the fear of it sliding off! 

The VACAY bracket makes your journey to Aruba easy by leaving ample room for the USB accessory port on the edge of the AP as well as the Micro-USB console port, and the Ethernet ports! There's even access to the serial, MAC, and information sticker!
If you are looking for a way to transition from Cisco 1040, 1140, 1260, 3500, 3600 or 4000 series APs to Aruba 500 or 600 series APs, this is the easiest way to do it!
Please note: There may be up to a 2-week lead time for product due to demand.